OUR VISION & MISSION:
Our vision is to inspire, entertain, and improve peoples' lives and environment through the impact of music.
Our mission toward accomplishing this is to produce the highest quality vinyl records possible from both a sonic and aesthetic perspective, at a fair price, and with as minimal environmental impact as possible; and to provide industry-best customer service.
Our approach is to make records better than they have to be made.
No matter the size of the order, our vinyl pressing plant provides indisputable quality control, and personalized service striving for same-day responsiveness to all email and telephone inquiries.
MAKE BETTER RECORDS…SELL BETTER RECORDS.
GIVE YOUR FANS THE BEST VINYL EXPERIENCE.
---
A LITTLE HISTORY:
Gotta Groove Records opened up in 2009, and at the time, was one of the first new pressing plants to open in the United States in decades. It all started when Vince Slusarz left behind his long career with Kinetico in search for a new adventure. He acquired all of the machinery from Dynamic Sun Records (also known as Sun Record Pressing), a long-established pressing plant in New Jersey, when its owner had decided to retire. Vince, being a music fan and record head (he once operated a record store out of his college dorm room) had a plan to bring several high-skill manufacturing jobs to the core of the Cleveland city limits via vinyl record manufacturing.
Meanwhile, Matt Earley, who had been wholesaling vinyl records to indie record stores for a bloodline of one-stops (starting with Campus Records, Inc. in Columbus, Ohio, which was acquired by Arrow/ATM Distributing in 2001, merged with Galaxy Distribution in 2007 to form EDGE Entertainment, and ultimately was acquired by Alliance Entertainment in 2010) was looking to launch his own record pressing plant. When calling around to pressing plants in the USA, he connected with the former owner of Dynamic Sun who told him "we just sold everything to somebody in Ohio yesterday!". Sun's owner would not reveal the identity of the investor, but after some sleuthing around, Matt was able to connect with Vince. The two met, and over the next year, made the decision to go into business together.
Through the course of GGR's first five years of operations, it integrated many services connected to record manufacturing in order to be a vertically-integrated one-stop-shop operation offerring lacquers, plating, pressing, label/sleeve/jacket printing, download hosting, pre-order fulfillment shipping, venue shipping, and distribution consultancy. Through the dedication and hard work of our employees (several of whom have been with us since the beginning), we have been fortunate enough to grow GGR into the pressing operation it is today. To date, GGR has worked on over 10,000 vinyl releases.
In April 2021, Vince Slusarz sold the majority of the company, along with its day-to-day control to his son (Vincent "Jr" Sluzarz) and Matt Earley. Vince Sr. remains on the company's Board of Directors; Jr is the Vice President of Operations, and Matt is the company's president.
---
ABOUT THE GOTTA GROOVE OPERATION:
Due to our "one-stop-shop" approach, our unparalleled proprietary quality control procedures, and our independent modus operandi, Gotta Groove Records is the most technologically advanced record pressing operation in the United States. Click here to see some of the projects we have worked on.
We like to say, we will press any record that's legal (sorry, we do not do bootlegs, and cannot press records with uncleared samples – but will press just about anything else). We do not care if you are a bedroom recording artist, indie musician or band, indie label, or a major label – if you want to put out a high quality record and deal with a company who takes your phone call (unless we are on the other line) and replies to your email, we want to press your next record.
First and Foremost – The People:
A company can have the best location and most attractive building, the most expensive machines ever made, and the deepest marketing & PR pockets in the industry – but it still cannot make the best records on the planet without having the best employees. From day one, Gotta Groove has been blessed with talent. We did not start with a single employee who had prior record pressing experience – but we did start (and continue) with employees who wanted to learn the craft of making vinyl, help build a reputation for high quality records, as well as actually do the work required to make some of the best records ever made.
We are humbled and gracious to say that we have folks in every department – pressing, quality assurance, and packing – who have either been with us from the very beginning of our company, or pretty close thereto. We value our employees' loyalty, as well as their insights, way more than any of the physical assets we have acquired; and we would not be the company we are today, or have the optimistic view of our future in this exciting and challenging industry, without the dedication of our employees.
Call it a Cleveland thing…or call it a Midwestern thing. Whatever you want to call it, our team of employees is the biggest factor that sets the standard upon which the Gotta Groove Records reputation relies.
---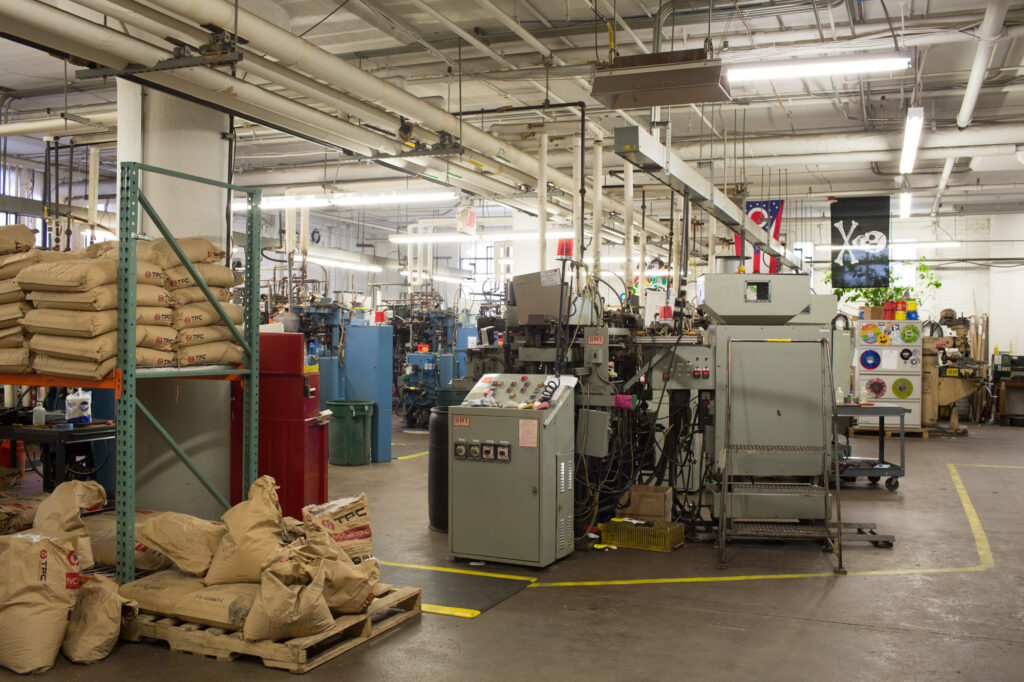 Gotta Groove – The Definition of A Modern Vinyl Record Pressing Plant:
GGR has implemented some technology and processes which (quite possibly, although we can't verify) have never been used on record pressing equipment anywhere in the world. In fact, NASA has consulted in some facets of our operation. We have a closed-loop heating/cooling system comprised of a high efficiency boiler and industrial chiller.
Our pressing floor includes eight (8) fully-automatic record pressing machines, all controlled by modern electronics such as PLCs (programmable logic controllers) and temperature-controlled molds:
– One NEW 2017 custom built computerized automated record press – built specifically for GGR by Record Pressing Machines, LLC. The press has touch-screen controls, as well as all zoned PLC controls that our entire pressing operation utilizes. This press is actually serial number 1 for Record Pressing Machines, LLC – GGR is the first plant to install one of their machines; but since then, some of the other high quality pressing plants in the United States (QRP and the forthcoming Mobile Fidelity pressing plant) have followed suit. Record Pressing Machines designs focus upon using the best of the traditional record press compositions and functions, but integrating modern controls and off-the-shelf parts for faster and more economical servicing compared to either legacy machines or machines built outside of the United States. For making the highest quality vinyl records, these truly are the best modern pressing machines.
– One NEW 2019 custom built computerized automated record press – also made specifically fro GGR by Record Pressing Machines, LLC. This machine is very similar to our 2017 press, with a few new "bells and and whistles" as the company continued its constant improvement in the machine's design.
– Two (2) restored and rebuilt SMT automatic 12″ presses. SMT presses are extremely reliable and efficient for pressing 150 gram 12″ records. Once setup, they run and run and run until you stop them. The new Record Pressing Machines presses mentioned above are modelled off of the best features of the traditional SMT press.
– Four (4) restored and rebuilt Hamilton automatic presses – two for 150 gram 12″ records, one for 180 gram records, and one for 7″ records. Hamilton presses are particularly adept at making the best sounding 180 gram records on the planet, making custom color records (including Wax Mage variants), and are easy to use for running test pressings. Our 7″ Hamilton press was originally a 12″ press that we rebuilt to make 7″ records.
Depending upon the combinations of order specs (vinyl color(s), quantities, etc), our capacity is up to 10,000 records per day over the course of three shifts running Monday through Friday. (We sometimes have a weekend overtime shift or two, but for most of the year, we try to give a full weekend to our employees who want one).
Instead of focusing solely upon the quantity of records that we can produce, our first and foremost focus is upon the quality of the records we produce. We like to say that we have "big plant capacity", but specialty shop quality and customer service.
We employ a full time mechanic, as well as more quality control workers than any other pressing plant in the U.S. — one quality control employee per every two pressing machines listening to approximately every 25th record off the press during every shift, regardless of order size. Notes are kept and pressing adjustments made, as necessary. This certainly does increase the amount of time necessary to manufacture records, but it has proven effective in shipping the highest quality records that can possibly be manufactured. Many of the issues caught during this extensive listening process would otherwise make it out to the marketplace, if not for our listening practices. Many issues are not visually apparent, and therefore require listening.
Before shipping test pressings to customers, each test is reviewed, sometimes on more than one turntable. Any imperfections are further inspected by our Quality Control Manager. In many cases, we make the decision to not ship test pressings and to further troubleshoot issues before the test pressings get into the customer's hands. When required, we absorb the additional costs of remaking parts to correct test pressing issues. While this can add weeks to the time it takes to ship test pressings, it also maintains our 99% test pressing approval rating by correcting most issues before they can reach our customers' turntables.
Every record we press is sleeved by a human being as a final visual quality checkpoint – at the end of a given order, usually at least 3 different sets of eyes and ears have inspected your records.
Sometimes, when required, we approach our materials vendors to alert them of issues in their products. We have received the reply of "no other pressing plants have brought this to our attention" on more than one occasion, which has also helped prevent issues from repeating themselves at other pressing plants. This response has always further enforced our notion that GGR's quality control methodology, while not the fastest, is unsurpassed in the industry when it comes to making optimal records.
We like to refer to our records as "vinyl perfect" — we are always striving for perfection in an imperfect medium, shipping records that are the best that they can sound/look given each project's unique characteristics.
---
Making Record Pressing Easier:
At GGR, we also use technology to make the process getting records made easier. Our Record Builder online price calculator and order placement system is the easiest way to order custom records in the industry [click here for a video showing the Record Builder in action]. We also have an online order tracking system, where customers can check the status of their order and see milestones 24/7. Email reminders are also sent during the course of production of an order.
For folks who are completely new to having a record made, we offer both in-house remastering services, as well as referrals for graphic design services.
Finally, of course, we are ready and wiling to answer our phones and respond to emails — responses are always within 24 business hours, and typically, much faster! Contact us today at (800)295-0171 or [email protected]!
---
Lacquering With Care:
"Lacquering" or "cutting" is the first post-mastering step in the vinyl manufacturing process. This is when your audio first becomes a physical, tangible form — being cut in the form of grooves via a record lathe onto a blank lacquer-coated disc (in the United States, all phonograph master disc cutting is done onto lacquers – vs DMM, which is still in use at some vinyl mastering facilities outside of the U.S.A.)
We also continue to design and experiment with mediums beyond the traditional lacquer, but which are compatible with traditional Neumann VMS70 lathes – our hope is to soon have an alternative cutting medium to the traditional lacquer.
When you have your audio cutting services handled by Gotta Groove Records, you are receiving some of the most experienced and most attentive services available in the vinyl industry. We can cut from analog tape, high resolution audio files, and most recently have added capabilities to cut from DSD audio.

Our mastering team consists of:
Well Made Music – All 12″ Cuts:
Clint Holley, the owner of the Well Made Music studios, has been the resident lacquer engineer at Gotta Groove Records since 2009. Since then, he has cut well over 10,000 releases, including artists like St. Paul & The Broken Bones, Willie Nelson, Luna, Dave Alvin, and many others. Applying proven traditional techniques combined with modern technology while using two completely restored Neumann VMS-70 lathes, Clint oversees 90% of the 12″ lacquer work done at Gotta Groove Records. At the Well Made Music Studios, there is a one-of-a-kind floating floor upon which the lathe is set, which removes the ambient noises from cuts and any possibility of vibrations occurring in the cut itself.
Dave Polster is a vinyl mastering engineer at Well Made Music and a recording engineer based in Cleveland, OH. He received his Bachelor's Degree in Audio Production from Ohio University and is an active member of the Audio Engineering Society. He has been recording and mastering music for several years and has been fortunate to work alongside some of the brightest minds in the industry. Dave is a large proponent of vinyl records. He has been collecting vintage LP's for over a decade. Due in part to his experience in the manufacturing end at Gotta Groove Records along with his experience as a vinyl mastering engineer at Well Made Music, Dave has in-depth, first-hand experience in the vinyl record production process. If you ever see a record with a "dP" inscribed near the matrix number between the run-out grooves, you now know where it came from.
Rare Form Mastering – All 7″ Cuts:
Greg Reierson, owner of Rare Form Mastering, oversees 90% of the 7″ lacquer work done at Gotta Groove Records. He has spent the past 33 years working in the audio industry with a primary focus on mastering since 1989. In that time he's mastered more than 6,000 commercially released albums for a diverse group of local, national and international artists including Prince (R.I.P.), Keb' Mo', The Cure, Jonny Lang, Cyril Neville, Rita Coolidge, Bernard Allison, The Marshall Tucker Band, Tommy James, John Kay, Willie Murphy, Cloud Cult, The Honeydogs, Bruce McCabe, Dean Magraw, The Ocean Blue, fDeluxe, The Suburbs, Lorie Line and many others.
In the studio, Greg surrounds himself with a carefully assembled collection of old and new – from his vintage Neumann VMS70 record lathe and assortment of analog tape decks to everything the modern digital world has to offer. Greg has designed, built or modified much of the equipment used at RFM and spends time between sessions working on various electronics projects and satisfying his curiosities about music, sound, audio perception, acoustics and audio technology.
There is no one-size-fits-all approach to cutting records. Every audio master we receive is cut during its own unique session, and care is taken to cut the lacquers in a way that is as close as technically possible to the source audio. Other considerations we take into account are potential pressing and plating issues we have found can be minimized with certain cutting techniques, depending upon the program material; as well as potential playback challenges.
Attention mastering engineers — we would love to hear from you! Instead of relying upon our mutual customer to upload audio files when placing their order with us, we would strongly prefer to receive the files directly from you — along with any feedback on specific concerns you encountered with the client during the mastering process. Open-door communication will help all involved to make the best sounding records possible. When customers supply masters to us without direct communication from the mastering engineer who prepared them, the customer entrusts us to make professional judgments in how the audio should be cut. This works well for the vast majority of records that are cut in-house. However, it does always help when a mastering engineer uploads audio files directly to our website and contacts us directly to discuss them – particularly when special considerations need to be taken into account. We cannot stress our open-door policy enough.
Clint Holley & the Well Made Music Studios Lathe (formerly located in 78th Street Studios in Cleveland):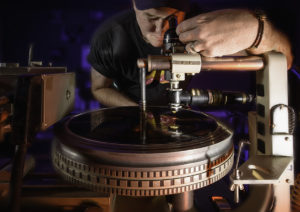 While approx 90% of the records we press are cut in-house, we also welcome lacquers supplied by third parties. While not comprehensive, you will find a list here of other very reputable lacquer cutting facilities in the United States.
---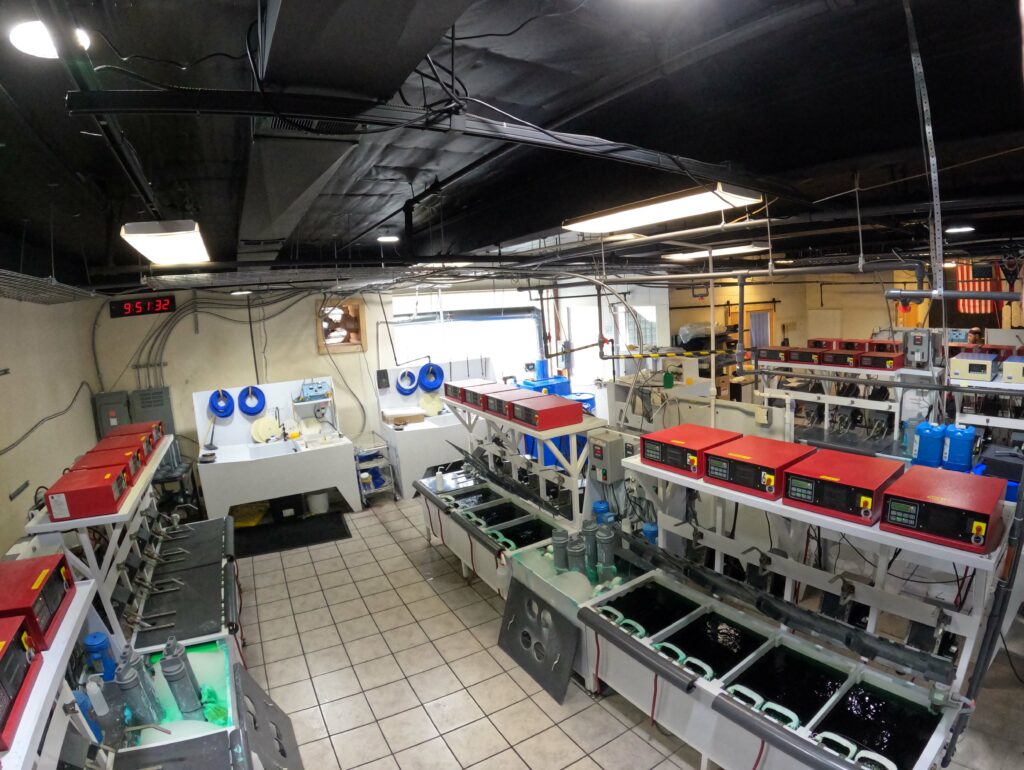 Record Plating:
"Record Plating" (which is technically electroforming, not electroplating) is the method used to make the metal parts which ultimately stamp the grooves into pressed records. The 2-step plating method is used by default for most standard weight and 7 inch vinyl orders, as well as 180 gram vinyl orders under 500 units. 3-step plating is the standard for all 180 gram orders of 500 units or more. You can also request 3-step plating for any order. (If none of this makes sense to you, no problem, just give us a shout at (800) 295-0171, or email us at [email protected]).
When you place your order with GGR, all plating costs are included in the order total, and we manage all attributes of the plating process for you.  Each metal mother is listened to and recorded in its entirety, to establish a baseline for running test pressings, as well as preventing recurring issues in metal and lacquer processing.  A proprietary reverse-osmosis (RO) water system is used, verses the more traditional deionization (DI) water systems in use at other plating facilities.
Our state-of-the-art plating facility is located separately from our pressing plant, in Columbus, Ohio. In 2023, we acquired the record plating operation of our long-time plating vendor, NiPro Optics. NiPro owner Tom Gross, who started his record plating career at Motown's pressing plant, decided to retire from the records business altogether. Since NiPro and Gotta Groove worked extremely closely over the years, it made the most sense for GGR to take over the operations.
We moved the NiPro equipment to Ohio in early April 2023 – within 24 hours of unloading the equipment, we were making stampers. NiPro's crew spent six weeks with us, to ensure a smooth transition of existing NiPro customers' work to our new facility.
The building's floorplan is designed around creating a near-cleanroom environment for the plating laboratory, extensive space for an ever-expanding mothers and masters library, new technology and equipment never before used in record plating, and additional space for a cutting studio. Every square foot of the facility has been laid out with a focus upon making the best and most consistent phonograph metal parts anywhere on the planet, and we are excited for the world to get to hear the records produced from them.
The plating setups (both for lacquer processing as well as stamper creation) utilize a spindle design – much like the original SMT plating setup, but enhanced by improvements designed by Tom Gross. The spindle design reduces the degree of handling involved when working on parts, and thus reduces variables which can traditionally lead to problems with stampers.
We only use Reagent grade materials in each step of our processes, and our nickel supply is exclusively S-pellets, a high purity form of nickel. Reagent grade chemistry and S-pellets are typically reserved for operations in the optics and medical industries, which require far tighter tolerances than the record industry. However, by using these optical grade materials within our facility, we are able to greatly minimize contaminants and produce higher quality parts more consistently than when lower-purity grades of materials are used. Also notable, our lab solely uses RO (Reverse Osmosis) water purification, instead of DI (deionized) water.
We process lacquers using a proprietary customized silvering solution in a PLC controlled automated silvering booth. This ensures accuracy and consistency when processing lacquers.
We operate five plating lines, encompassing 28 plating positions.  We use the newest technology for stamper sanding/coining/crimping from Sibert Instruments and RPA.  Combined, our team and equipment allows us to produce enough metal parts for pressing approximately 50,000 records per normal workday (or approximately 10 million records per year).  With this level of capacity, we are able to consistently achieve industry-leading turn times; as well as remain nimble for rush situations; and we supply stampers not just for GGR's own pressings, but for record pressing plants worldwide.
Additionally, in 2017-2018, we worked with with NiPro Optics to develop the first new form of record plating technology in the past 30 years — GrooveCoated™ stampers.  Depending upon the cut, this combination can dramatically increase the lifespan of the stamper, and reduce high frequency loss as pressing cycles continue over the course of manufacturing.
Finally, we make great effort to minimize our plating operation's impact on the earth.  We operate a zero-wastewater discharge facility.  This means, no process wastewater is ever discharged into the public water system.  All wastewater enters an evaporator, which evaporates the water and separates the trace chemicals, due to all chemistry used in the plating operation having a lower boil/steam temperature than water. Scrap metal is recycled. We re-use packaging materials as long as possible, and we use industrially compostable packing tape.  Finally, our stamper innersleeves are made from 100% recycled/recyclable thin film plastic.
---
Vinyl Material:
At GGR, we have experimented with nearly every vinyl formulation available around the world. From 2013 through 2018, our black was custom manufactured for us by Rimtec, now known as Riken Americas. In late 2017, Riken advised us of the possibility that they may exit the black vinyl market. So, in January 2018, we began to procure different black formulations from around the world. We even experimented with a non-PVC plastic at one point. As of late 2019, we primarily use non-lead PVC formulas from TPC (Neotech). We are also currently testing vinyls manufactured by some non-record business compounders within the United States.
While this section about vinyl may seem pretty small compared to the topics elsewhere on this page, particularly since it's the biggest component in a record, that is not by design. There is a ton of R&D that goes into making a successful PVC formula for vinyl records. Not just any PVC will do – there are specialized attributes required to make sure the record stays the same from right off the press to several decades of listening down the line. But, the reason PVC is the best current material for vinyl records is that it lasts a really long time – and we want folks to be able to enjoy the records we press for a lifetime. 'Nuff said.
---
Print Services, Download Hosting, and Other Services:
We offer a wide range of print options to complete your vinyl package — from standard direct-to-board jackets (where the printing is done directly on the cardstock) to our proprietary and extremely high-quality Tip-On jackets.
We are a "one stop shop" for any sort of custom print option you can think of – from foil stamping and diecutting, to spot gloss treatments, "pop-up" displays and hardbound books. We have worked on a wide array of creative packages over the years. We offer graphic design services for customers who do not already have their designs prepared for print. Contact [email protected] for more information on this.
In 2019, we acquired assets from the famous Hamlett Printing Service, the long-established Nashville based label printing company. When David Hamlett retired, we wanted to keep the Hamlett brand alive in spirit, and particularly with our customers like Daptone Records, Colemine Records, and Cadabra Records who regularly release records with traditional "Hamlett Style" silver and black labels, it only made sense that we make a deal with David. Being one of the nicest guys that you will ever meet in the record business, David even personally lent a hand in loading the equipment onto our truck. While we do not offer the full array of colors that David sold, we are proud to be able to carry on his labels' appearance to a new generation of record buyers.
We also offer a download audio hosting service that enables you to have a unique landing page for every record you release. Whether you want us to host basic 320kbps MP3 versions of your tracks for download, or higher res versions (or bonus material, videos, and art), our platform guarantees 99.8% up-time, and comes with consumer support for download code redemptions. Each code is hosted in perpetuity, but is only redeemable once. The standard download coupon we include has very simple instructions for redeeming the code, as well as a thumbnail of your cover art; for orders that are shrinkwrapped, we include a stock "free download included" sticker on the wrap.
Finally, through our sales consultant CPI Distribution, we can assist you in getting your records distributed to the marketplace.
---
D2C Fulfillment
While we have always offered some level of direct-to-consumer fulfillment of the records we press, we expanded our capabilities for single-wave fulfillment services in 2021. With a large shift toward D2C color variants and artists releasing their own albums without a label, there was a growing need for a company to focus upon record shipping to consumers.
We use the best packing/mailers in the industry – custom manufactured by Capitol Containers in Chicago, IL. With Ohio being the near-population centerpoint of the United States, we are in a great location for not only rapid delivery times to 90 percent of the USA record buying market, but also from an environmental impact perspective, we are within a sustainable distance to most shipping addresses in the country. Of course, we also ship internationally.
We accept fulfillment order information through flat file transfer and EDI, API, CSV, as well as automated fulfillment through Bandcamp. Please click here for more information on our fulfillment services.
---
Gotta Groove House Label Releases
From time to time, we like to have some more fun and release some of our own records. This started in 2012, when we released the album Bewitched by the band Luna, which had never previously been released on vinyl. (We actually continue to keep this album in print on the "Gotta Groove Label"). The project was not only a fun way to put one of our favorite albums of all time on wax – it was a way to really show off to the world the quality of the vinyl we were producing – sort of a "proof of concept" by a young company just coming into its stride.
Since then we have expanded this "proof of concept" idea to releasing albums with Ohio roots, via our "house imprint" OH!Wax. This includes releases by the monumental independent spiritual jazz group Black Unity Trio, the esoteric underground singer-songwriter Tom Wachunas, the Dayton, Ohio 1980s bedroom metal band Witch, the 1960s garage-rock band Lost Souls, and coming soon- the masterpiece solo cello album By Myself by Abdul Wadud.
We occasionally collaborate with our customers on joint releases or exclusive variants, we release Wax Mage editions of certain records, as well as sometimes dabble with releasing new albums by new musicians. You can find all of the vinyl releases we put out on our house labels at our online-only Gotta Groove Record Store.
---
Efficiency, Conservation, and Offsetting Environmental Impacts
The environment is very important to us at GGR, as it should be to everyone. So, we take broad measures to run our operation as efficiently as possible, as well as to mitigate our footprint on the earth as much as possible. We strongly believe that if everyone – manufacturers, service sector businesses, and individuals alike – makes real efforts to minimize impact upon the environment, we can all have a collective positive effect on the world's climate and living conditions, as well as upon our own personal lives. We recognize that not every business is going to be zero-impact, or carbon negative. But, it is the collective real actions taken by businesses and individuals within their own controllable environments and lives that can mitigate waste and pollutants and have a true collective improvement for our earth.
Vinyl records, when taking the entire supply chain and consumer behavior with the end product into account, are some of the least environmentally detrimental consumer goods sold. This is in large part because, well, you can enjoy a vinyl record for generations if it is made well and properly cared for! Records are a consumer good that is not generally "disposable" — the majority of record buyers keep their records indefinitely, and those who do not typically will sell/donate them vs throwing them in the trash. By focusing on making high quality records, we feel that we further ensure that our records are collected and owned for lifetimes. An interesting article somewhat related to this subject was published in the Ecologist in 2018.
Also, the device required to play vinyl records — a turntable — is generally not thrown away. Most people who invest in a decent turntable will only buy one or two in an entire lifetime – and even when they replace or part ways with it, it is rarely thrown away, but instead typically sold to a new user. Contrast this to the devices required for digital entertainment formats such as audio and video streaming, download audio, video games – and how many mobile devices and/or computers a typical consumer goes through in a lifetime (and how few of these are re-purposed or recycled).
Manufacturing is an essential component to the success of our economy. In any manufacturing operation, there is going to be some level of waste/scrap. While we can only speak specifically with regard to our operation at GGR, we believe that the manufacture of vinyl records tends to be on the far lower end of potential pollutants than the vast majority of manufacturing operations.
Fortunately, the vast majority of the scrap and excess materials involved in making the records we ship (print / packaging / vinyl / metal parts / lacquers) are recycled or reused within our operation. All paper scrap is recycled, and the lion's share of scrapped records are recycled within our closed-loop system. Additionally, we are a lead-free pressing plant – we deliberately use vinyl formulations which do not have lead as an ingredient.
The steam circulation system in our operation is "closed circuit" – the steam and water are continually recycled through the loop system. Our machines are modernized with controls to increase their efficiencies, and electric motors and pumps have been modernized and replaced.
Our new plating facility in Columbus, Ohio has been designed with environmental sustainability in mind from the drawing room to the laboratory floor. We are a zero-discharge facility – meaning that absolutely none of the process materials we use for plating ever make it to a drain or the public sewer system. Any process materials which cannot be reused/recycled within our facility are passed through a wastewater evaporator, which evaporates the water into vapor and separates any remnants of non-water materials into a collection basin for proper handling. The amount of waste that this generates is barely enough for our third party collection service to pick up every three years! We deliberately designed our plating facility (with the only exception being the building's high-efficiency gas heater in cold weather) and machinery to run on electricity, and we will be buying our electric from a certified Green-E supplier.
We try to consolidate as many services as possible under one roof: our strategic location in Cleveland, Ohio is centrally located to some of the country's largest paper/cardboard product suppliers; the largest PVC supplier for vinyl records in the U.S. operates a warehouse in Cleveland, and our plant is within a single day transit range for several of the country's largest distributors of vinyl (Direct Shot, Technicolor, Alliance Entertainment, SC Distribution, and Redeye Distribution). Also, our plating facility and fulfillment warehouse are located in Columbus, Ohio, within about 100 miles of our pressing plant.
Finally, while we make every effort to run our plant as efficiently as possible, there still will always be some waste and/or footprint left. What cannot be reused or prevented can be offset through contributions to worthy environmental causes. In past years, we have donated annually to Carbon Fund, to help offset the impact that our company has on the environment. Starting in 2023, we began donating to Cool Effect to offset GGR's impact on the environment.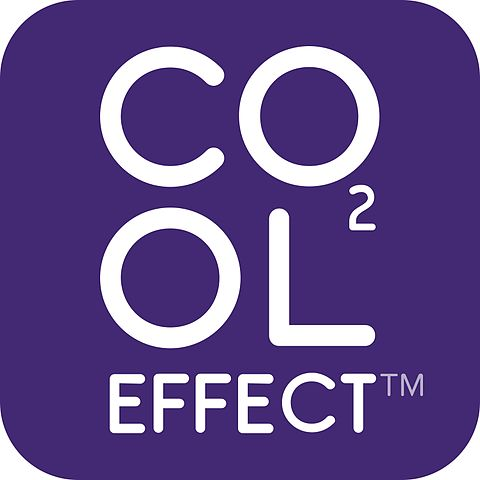 You can download a PDF of our Environmental Statement here.
Here are some "low-hanging fruit" measures you can do to help minimize your vinyl record release's environmental impact:
1. Ditch the shrinkwrap! In many ways, the biggest consumer-related impact of vinyl records is shrinkwrap — it nearly always winds up in the trash after purchase. Polybags, on the other hand, tend to stick around for the life of the record, since most consumers store their purchased records in the polybag, if it came in one. When 100% recycled polybags are used, it minimizes the environmental footprint even more!
2. Do not ship via air. Even without carbon offsets, ground shipping methods have far less of an environmental impact than air shipments. The carbon footprint left by certain ground shipments can also be further mitigated through the purchase of carbon offsets – GGR uses UPS's carbon offset option for all UPS shipments (air and ground). There are also numerous reputable carbon offset entities to whom you can donate to offset the impact of your own mailings and shipments of your records.
3. Choose high-quality options for your vinyl records. Records are designed to last forever. There are things you can do to help ensure that actually happens in the consumer's hands post-purchase. If you are working with Gotta Groove, you already are getting the highest quality vinyl pressing possible. You can further protect the pressing by utilizing packaging that is designed to protect the record, such as rice paper innersleeves or polylined innersleeves. While it is true that these types of sleeves have a plastic component, there is no better means to prolong the useable life of a vinyl record than these types of sleeves.
4. Finally, take into consideration the impact of the entire package. If a particular release does not really need the extra printed space of a gatefold jacket, consider producing a single pocket jacket instead. Minimize the weight of the package by choosing materials with less density – limiting 180 gram records to only those releases that absolutely require it, using house stocks of cardboard for jackets instead of thicker stocks, choosing less resource-intensive packaging options, use recycled papers and cardstocks where possible, and limit the use of marketing stickers to only when necessary.
At the end of the day, every item that humans produce and/or purchase will have an environmental impact of some sort. Vinyl records are not a single-use item – many generations can enjoy a vinyl record if properly made, and properly cared for.
---
The Gotta Groove Records Bottom Line – High Quality Vinyl Pressing, Customer Service, and Environmental Consciousness
If you don't see what you are looking for or have a question, get in touch with us at [email protected] or call (800) 295-0171. We invite you to view our company video to learn more about us, and our approach to making records. We want to press your next record.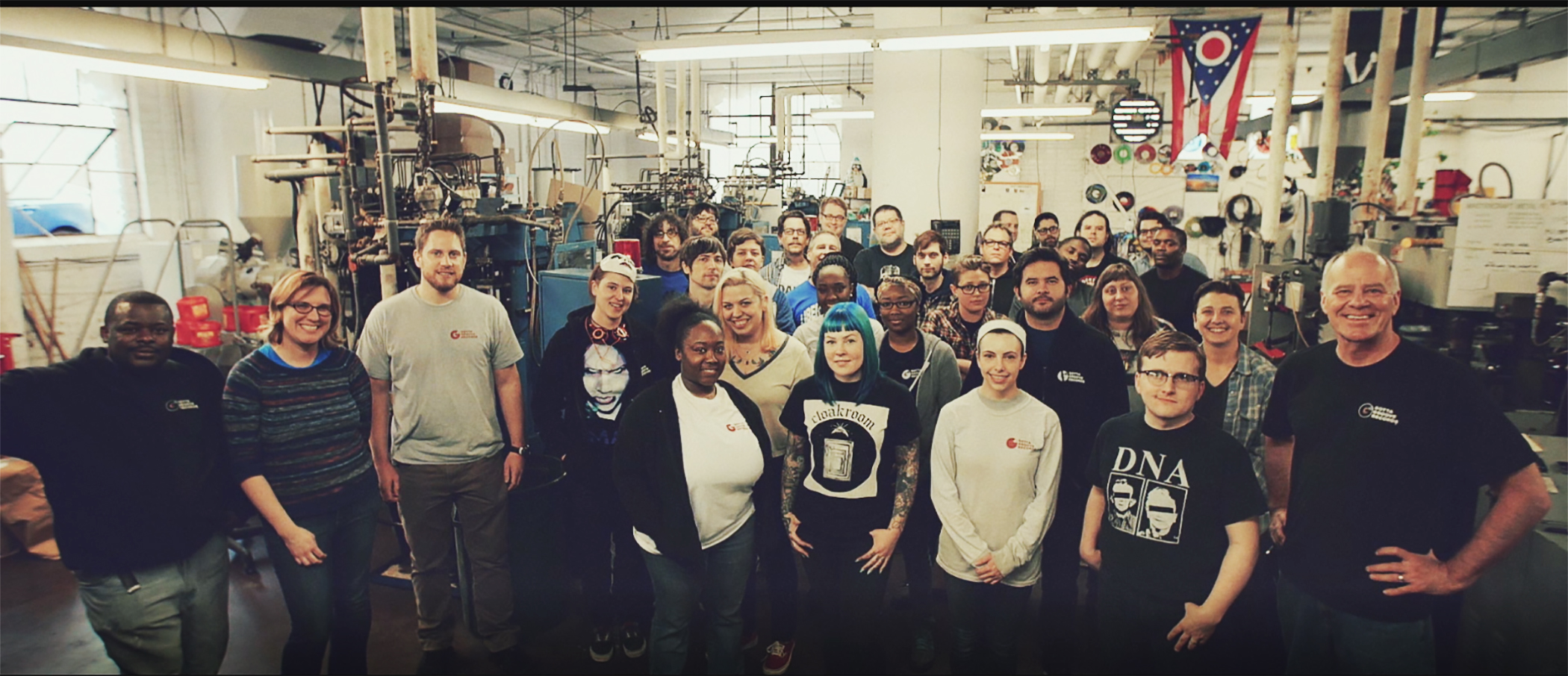 Gotta Groove Records 2016 Staff
Gotta Groove Records, its logos displayed on this website, the trade names "Gotta Groove Electromastering Lab" and "GrooveCoated Stampers", the tagline "The Artist's Preferred Pressing Plant", the tagline "We Want To Press Your Next Record", the tagline "Pressed Not Compressed", the tagline "When You Want Your Records Loud [Enough] But Your Vinyl Quiet", the tagline "Big Plant Capacity Specialty Shop Quality & Service", the tagline "Quality Control, Fair Pricing, Environmental Responsibility, Customer Service", and the tagline "Simply The Best Vinyl Pressing Experience" are all trademarks of Gotta Groove Records, Inc. and/or its affiliates, and may not be used without prior written consent.