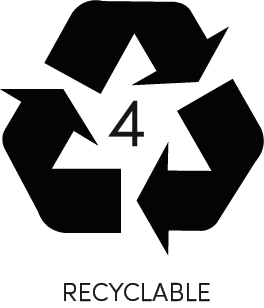 The 100% recycled polybags we offer are also recyclable! If you recently purchased a record in a polybag with a link to this page, and you are interested in finding out where you can recycle the polybag (as well as other plastic single-use items), please click here to find a dropoff location near you.
We also use ExlfilmPlus GPS shrink film for shrinkwrapped jobs.
Here are other resources for minimizing consumer impact on the environment:
Green-e offers resources to change your home or business's electric service provider to a Green-e certified renewable or offset electric service provider.
We are proud to donate to Cool Effect to offset at least a portion of our company's impact on the environment. Cool Effect makes it easy for individuals to donate to their offsetting projects, as well as to donate to offset the impact of travel (air travel, ground transport, etc).
While reducing carbon impact is the top goal for any person or business, CarbonFund.org provides ways to offset the carbon impact that you or your business are unable to avoid.
Recycling "E-Waste":
---
The environment is very important to us at GGR, as it should be to everyone. So, we take broad measures to run our operation as efficiently as possible, as well as to mitigate our footprint on the earth as much as possible. Vinyl records, when taking the entire supply chain and consumer behavior with the end product into account, are some of the least environmentally detrimental consumer goods sold. This is in large part because, well, you can enjoy a vinyl record for generations if it is made well and properly cared for!
Here are some "low-hanging fruit" measures you can do to help minimize your vinyl record release's environmental impact:
Ditch the shrinkwrap! In many ways, the biggest consumer-related impact of vinyl records is shrinkwrap — it nearly always winds up in the trash after purchase. Polybags, on the other hand, tend to stick around for the life of the record, since most consumers store their purchased records in the polybag, if it came in one. When 100% recycled polybags are used, it minimizes the environmental footprint even more!
2. Do not ship via air. Even without carbon offsets, ground shipping methods have far less of an environmental impact than air shipments. The carbon footprint left by certain ground shipments can also be further mitigated through the purchase of carbon offsets – GGR uses UPS's carbon offset option for all UPS shipments (air and ground). There are also numerous reputable carbon offset entities to whom you can donate to offset the impact of your own mailings and shipments of your records.
3. Choose high-quality options for your vinyl records. Records are designed to last forever. There are things you can do to help ensure that actually happens in the consumer's hands post-purchase. If you are working with Gotta Groove, you already are getting the highest quality vinyl pressing possible. You can further protect the pressing by utilizing packaging that is designed to protect the record, such as rice paper innersleeves or polylined innersleeves. While it is true that these types of sleeves have a plastic component, there is no better means to prolong the useable life of a vinyl record than these types of sleeves.
4. Finally, take into consideration the impact of the entire package. If a particular release does not really need the extra printed space of a gatefold jacket, consider producing a single pocket jacket instead. Minimize the weight of the package by choosing materials with less density – limiting 180 gram records to only those releases that absolutely require it, using house stocks of cardboard for jackets instead of thicker stocks, choosing less resource-intensive packaging options, use recycled papers and cardstocks where possible, and limit the use of marketing stickers to only when necessary.
At the end of the day, every item that humans produce and/or purchase will have an environmental impact of some sort. Vinyl records are not a single-use item – they are a product that can be enjoyed by generations if properly made, and properly cared for.