(AKA, "centers", "hubs", "stickers") — The thing in the middle of your record.
GGR pricing includes BASIC LABELS.  
What does "basic labels" mean?  Either black and white print (halftones are OK in black and white print); or 2-color print.  See pictures below:
B&W PRINT (any B&W print is ok – photographs, drawings, halftones, anything that uses only the K [black] print plate):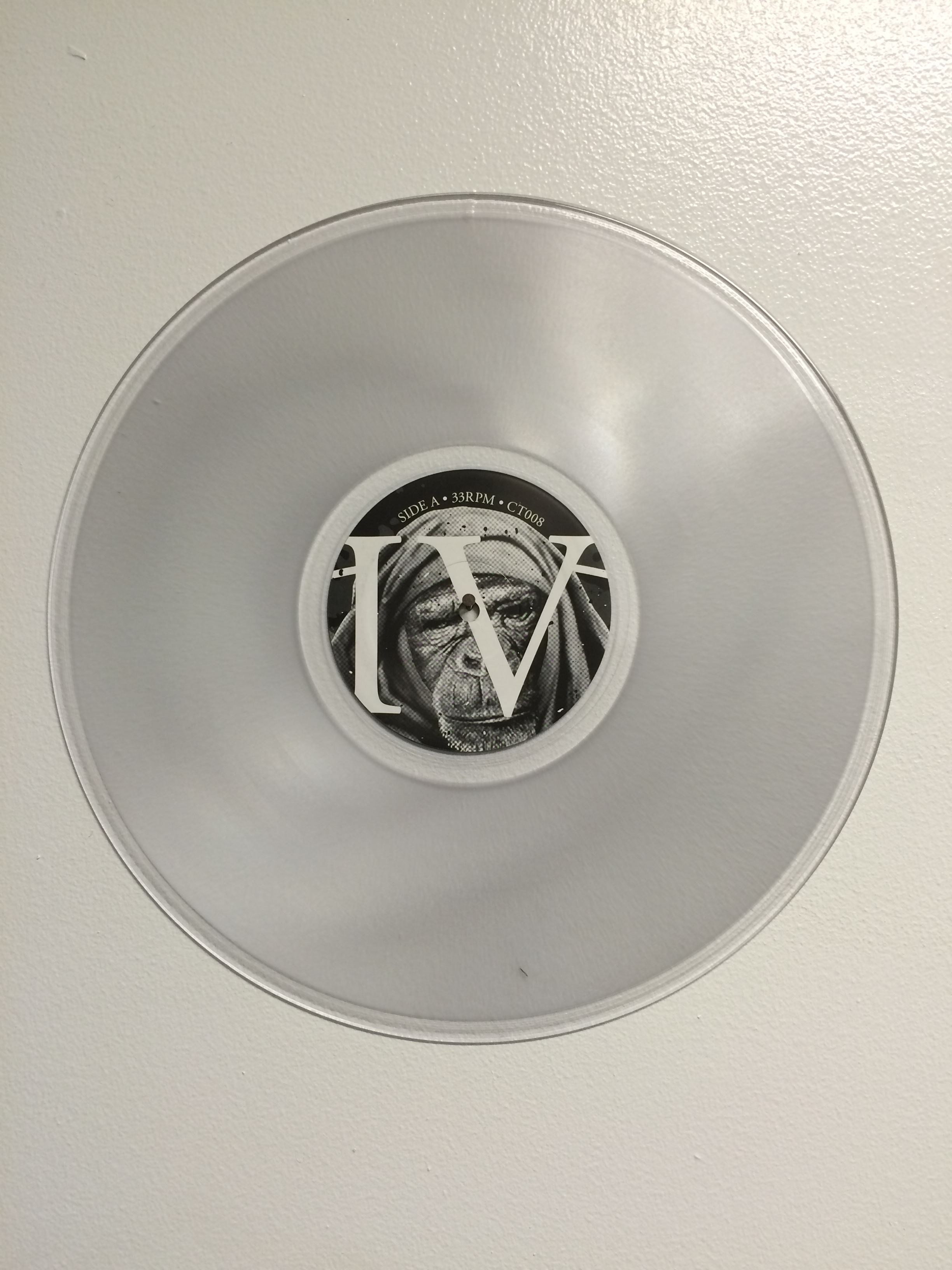 "2 COLOR":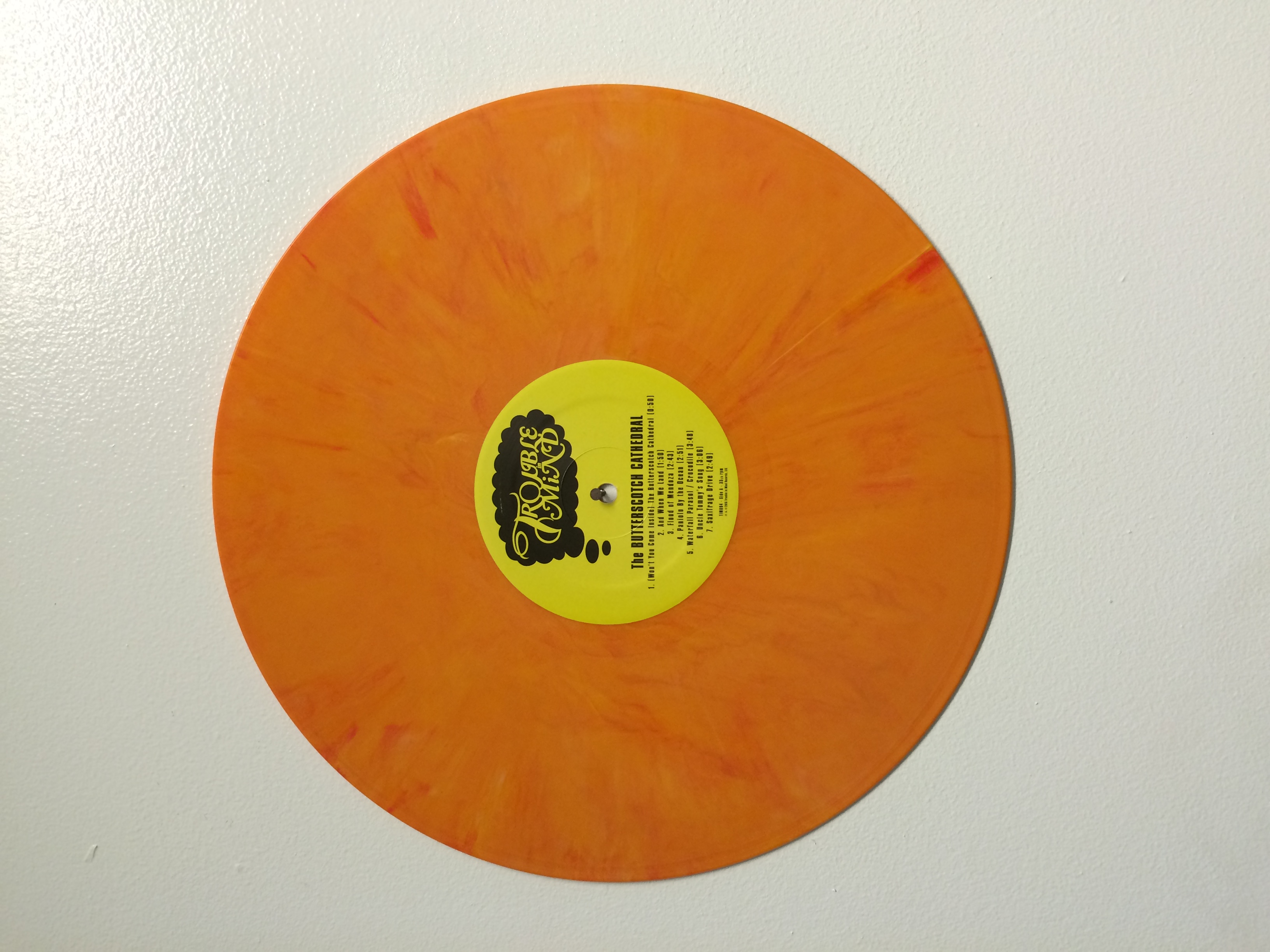 The two colors must be selected from the list of available colors below.  The design must be a single SOLID color foreground (no halftones/shading) on a single SOLID color backdrop (again, no halftones/shading; and no knocked-out areas of white unless white is one of your two colors).  Color choices are:
Beige (PMS155)
Black (Process black – 100% K)
Cyan (Process cyan – 100% C)
Dark blue (PMS072)
Dark green (PMS355)
Light blue (20% Cyan)
Light green (PMS375)
Magenta (Process magenta – 100% M)
Orange (PMS021)
Pink (20% Magenta)
Red (100% M + 100% Y)
White (blank)
Yellow (Process yellow – 100% Y)
If you are not sure what any of this means, or if you are using Photoshop, give us a shout at (800) 295-0171 and we'll help you out.  The best (crispest) print is when you use a program like Illustrator or InDesign and set the colors up per the exact pantone numbers (or process %) listed above.  The reason that other pantone colors are not listed is because different ink colors can behave dramatically different under the heat and pressure involved in record pressing.  Record labels are not stickers that are adhered to the face of the record after each disc is pressed — they are actually an integral part of the pressing process.
LABEL UPGRADES:
You can upgrade your label art (additional charges apply) if you can't make something work in the colors listed above.
FULL COLOR (CMYK) PRINT — You print any image you want on the labels.  But — two very important notes:  1. We do not recommend any sort of rich black combination on labels — blacks should always be only 100% K on record labels.  2.  While we totally understand the desire to match label art with jacket art, please just keep in mind that labels will change in color after baking and pressing onto records, so it is nearly impossible to get them to match up with jacket artwork precisely.
SILVER OR GOLD AND BLACK LABELS — You can print Silver (pms877) or gold (pms873) on a black backdrop; OR black on a silver or gold backdrop.  Please note that these metallic inks work best for text and very simple logos — we do not recommend art that incorporates halftones/texture with metallic inks, because they are very susceptible to smearing.
OTHER PRINT OPTIONS — Our best advice is to call us at (800) 295-0171 before you even start to design your labels, if you are thinking about something outside of the options listed above.  Some things just won't work on record labels, and it is best to know this before you put too much time/effort/money into a design that may be problematic.  We can also quote custom options to you, but would prefer to discuss before you submit your art.
Finally, we strongly recommend that you read our art guide before starting your design work.