We are really proud to mention that the legendary hardcore/punk/metal label/brand Deathwish Inc. recently enlisted GGR to press up the United Nations Nevermind The Bombings, Here's Your Six Figures 7″ EP.  Tre McCarthy and Deathwish Records are some really cool guys, and the bands that are part of their roster are amazing.  You can take a listen to everything they have put out online, and be sure to pick up as many of their titles as you can afford.  This 7″ features a digital download bonus, and was pressed in 3 different limited edition colors…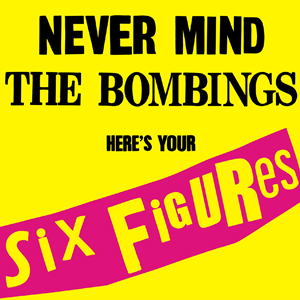 Here's more info about United Nations from the Deathwish website:
"Originally rumored to be a project founded by veterans from Thursday, GlassJaw, Converge and more, United Nations' existence and subsequent recordings have been cloaked in confusion since their rumored inception. On the heels of the release of their debut full length on the Eyeball label in 2008, the United Nations Organization (UNO) shut down the band's pages on Social networking sites worldwide. The band was also forced to alter their debut album's cover, sighting retail stores refusal to carry the title with controversial artwork. This informational blackout further added to the aura of mystery surrounding the band, allowing them to grow stronger amidst the chaos.
2010 brings the release of "Nevermind The Bombings, Here's Your Six Figures", the second alleged release from the band. "Nevermind…" is a spastic and violent four song explosion that brings to mind the bygone days of the mid-1990's "screamo" sub-genre. A poignant musical missile meant to sink today's safe and predictable musical establishment."