Independent Record Pressing For Independent Artists.
WHY VINYL?
On many occasions, we are asked why we want to make vinyl records in the 21st century.  We believe that the vinyl record format is the last physical medium embodying sound recordings that will live for decades to come.  With a few exceptions in the late 1990s, records have been at the merch tables of most artists and bands for over 60 years.  Given the science behind how a record works (a mechanical operation dragging a stylus through a groove catching information sometimes as small as 0.1 microns and translating it to audio), it is truly a marvel that the format works at all.  But, following a careful and regulated manufacturing process, the record brings a unique listening experience that no other format has done in the history of mankind.
OUR MISSION:
Not all records are created equal.  Our mission is to produce the highest quality vinyl records possible from both a sonic and aesthetic perspective at a fair price; and strive to provide industry-best customer service. We love to make and listen to records. No matter the size of the order, we provide personal service and strive for same-day responsiveness to all email and telephone inquiries.
We pride ourselves on being The Artist's Preferred Pressing Plant.  What does this mean?  Well, our reputation that we earned of being one of the highest quality pressing plants has enabled us to work closely with many artists who have direct control over their work, even when labels and management companies are involved.  We enjoy working with folks who care as much about putting high quality records into the marketplace as we do, and frequently, the folks who care the most about this are the artists themselves.
ABOUT GOTTA GROOVE RECORDS:
Gotta Groove Records opened up in 2009, and was one of the first new pressing plant to open in the United States in decades.
Through the course of GGR's first five years of operations, it has become the first completely vertically integrated vinyl manufacturing and distribution operation anywhere in the world.  Gotta Groove is the only pressing plant where every step of the manufacturing process (lacquers, plating, pressing, label/sleeve/jacket printing, download hosting); as well as a crowdfunding platform, wholesale distribution services, and consumer-direct fulfillment are provided by a single company.
Due to our "one-stop-shop" approach, our unparalleled proprietary quality control procedures, and our independent modus operandi, Gotta Groove Records is The Artist's Preferred Record Pressing Plant. Click here to see some of the artists for whom we have worked.
Lacquering With Care:
"Lacquering" or "cutting" is the first post-mastering step in the vinyl manufacturing process.  This is when your audio first becomes a physical, tangible form — being cut in the form of grooves via a record lathe onto a blank lacquer-coated disc (in the United States, all phonograph master disc cutting is done onto lacquers – vs DMM, which is still in use at some vinyl mastering facilities outside of the U.S.A.)  Applying proven traditional techniques combined with modern technology while using two completely restored Neumann VMS-70 lathes, our resident lacquer engineer Clint Holley and his team ensures that your music is translated to the vinyl medium in the most natural manner.  At the Well Made Music Studios, there is a one-of-a-kind floating floor upon which the lathe is set, which removes the ambient noises from cuts and any possibility of vibrations occurring in the cut itself.
When supplying digital masters, we prefer 24 bit wav files for the highest fidelity (unless our customer requests another format).  For convenient and fast previewing of your digital source audio on vinyl, we can provide test lacquer cut samples electronically (12″ orders only), or we can send traditional reference acetates for your approval.
For best results when submitting digital masters, we strongly recommend that you have them prepared specifically for vinyl by a seasoned mastering professional who is accustomed to working with vinyl.  Our recommendations for this service can be found here.  However, with whomever you choose to work, we welcome direct professional and open dialogue with your mastering engineer on all cuts.
There is no one-size-fits-all approach to cutting records.  Every audio file we receive is cut during its own unique session, and care is taken to cut the lacquers in a way that is as close as technically possible to the source audio.  Other considerations we take into account are potential pressing and plating issues we have found can be minimized with certain cutting techniques, depending upon the program material; as well as potential playback challenges.
Cutting from tape is an option, but please call us at (800) 295-0171 to discuss prior to submitting your order.
Attention mastering engineers — we would love to hear from you!  Instead of relying upon our mutual customer to upload audio files when placing their order with us, we would strongly prefer to receive the files directly from you — along with any feedback on specific concerns you encountered with the client during the mastering process.  Open-door communication will help all involved to make the best sounding records possible.  When customers supply masters to us without direct communication from the mastering engineer who prepared them, the customer entrusts us to make professional judgments in how the audio should be cut.  This works well for the vast majority of records that are cut in-house.  However, it does always help when a mastering engineer uploads audio files directly to our website and contacts us directly to discuss them – particularly when special considerations need to be taken into account.  We cannot stress our open-door policy enough.  
Clint Holley & the Well Made Music Studios Lathe (located in 78th Street Studios in Cleveland):
Record Plating:
"Record Plating" (which is technically electroforming, not electroplating) is the method used to make the metal parts which ultimately stamp the grooves into pressed records.  The 2-step plating method is used by default for all standard weight and 7 inch vinyl orders, as well as 180 gram vinyl orders under 500 units.  3-step plating is the standard for all 180 gram orders of 500 units or more.  You can also request 3-step plating for any order.  (If none of this makes sense to you, no problem, just give us a shout at (800) 295-0171, or email us at sales@gottagrooverecords.com).
When you place your order with GGR, all plating costs are included in the order total, and we manage all attributes of the plating process for you.  Our preferred plating partners are QCA and Nipro, and most of our plating work is handled through these facilities.  We do outsource some work to Record Technology (RTI) as well.
Since it can vary, depending upon a number of workflow variables, we strongly prefer to manage plating on all of the projects that we press.  Therefore, if you are supplying lacquers from a third party vs having your lacquers cut through GGR, it is extremely important that you have your engineer contact us directly before shipping lacquers out.  Record plating is one of the most problem-susceptible processes in record manufacturing, so we cannot stress enough our preference to manage the plating process from the point of lacquer shipment to final quality assurance of the metal parts.
A Modern Vinyl Record Pressing Plant:
GGR has implemented some technology and processes which (quite possibly, although we can't verify) have never been used on record pressing equipment anywhere in the world.
We use several fully automated Hamilton and SMT presses, one custom-built hybrid automated press (built in the USA by Record Pressing Machines, LLC in 2016), and we have one manual (or "semi-automatic") Finebilt press that we have redesigned and rebuilt in Cleveland (we call it the Groovebuilt press).  Each machine has been meticulously restored, or rebuilt from scratch.  From the addition of all-digital temperature and pressure controls; custom-engineered molds for optimal record weight and sonic characteristics; PLC (Programmable Logic Controller) temperature-controlled pressing automation; and industrial integrated cooler system; to the consultation with NASA engineers on space-age machine improvements, all R&D and investment in our plant helps to further our goal of producing the highest quality vinyl records possible from both a sonic and aesthetic perspective at a fair price.
We increased the size of our factory by approximately 60% at the beginning of 2015, and have doubled our record plating capacity at the beginning of 2016.  By the end of 2016, our record pressing capacity has exceeded 1.5 million units annually.  We continue to reinvest in machinery and infrastructure to expand our capacity and quality control.
We employ a full time mechanic, as well as more quality control workers than any other pressing plant in the U.S. — one quality control employee per every two pressing machines listening to approximately every 25th record off the press during every shift, regardless of order size.  Notes are kept and pressing adjustments made, as necessary.  This certainly does increase the amount of time necessary to manufacture records, but it has proven effective in shipping the highest quality records that can possibly be manufactured.
Before shipping test pressings to customers, each test is reviewed, typically on more than one turntable.  Any imperfections are further inspected by our Quality Control Manager.  In many cases, we make the decision to not ship test pressings and to further troubleshoot issues before the test pressings get into the customer's hands.  When required, we absorb the additional costs of remaking parts to correct test pressing issues.  While this can add weeks to the time it takes to ship test pressings, it also maintains our 99% test pressing approval rating by correcting most issues before they can reach our customers' turntables.
Every record we press is sleeved by a human being as a final visual quality checkpoint – at the end of a given order, usually at least 3 different sets of eyes and ears have inspected your records.
The black vinyl compound we use to manufacture records is a formula we specifically developed for our pressing machines in collaboration with U.S. based PVC manufacturer RIMTEC.  The formula nearly eliminates all traditional molding/pressing issues such as stitching, non-fill, and material stamper scratches.  Also, the compound itself is manufactured in the U.S.A., and is 100% lead-free.
We like to refer to our records as "vinyl perfect" — we are always striving for perfection in an imperfect medium, shipping records that are the best that they can sound/look given each project's unique characteristics.
We invite you to view our company video to learn more about us, and our approach to making records.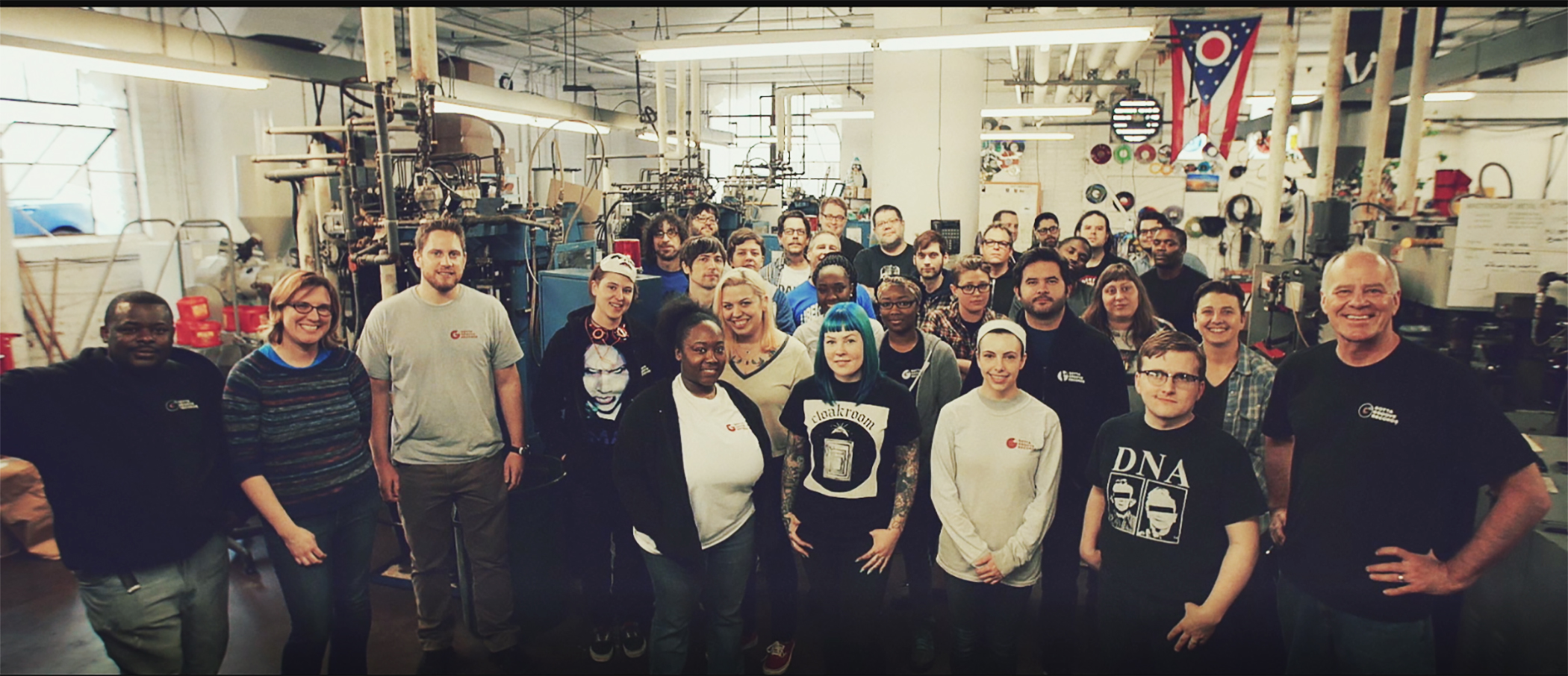 Gotta Groove Records 2016 Staff
Print Services, Download Hosting, and Other Services:
We offer a wide range of print options to complete your vinyl package — from standard direct-to-board jackets (where the printing is done directly on the cardstock) to Tip-On jackets.  We offer printed innersleeves with a special interior coating designed to protect records from scratches over time.  We are a "one stop shop" for any sort of custom print option you can think of – from foil stamping and diecutting, to spot gloss treatments, "pop-up" displays and hardbound books.  We have worked on a wide array of creative packages over the years.
We have a proprietary download hosting service that enables you to have a unique landing page for every record you release.  Whether you want us to host basic 320kbps MP3 versions of your tracks for download, or higher res versions (or bonus material, videos, and art), our platform guarantees 99.8% up-time, and comes with consumer support for download code redemptions.  Each code is hosted in perpetuity, but is only redeemable once.  The standard download coupon we include has very simple instructions for redeeming the code, as well as a thumbnail of your cover art.  Finally, for orders that are shrinkwrapped, we include a stock "free download included" sticker on the wrap.
Finally, we offer a vinyl-themed crowd funding platform called the GrooveBot; and through our sales consultant Clay Pasternack, we offer distribution services on compatible titles.  Please inquire for more information.
Efficiency, Conservation, and Offsetting Environmental Impacts
Minimizing the footprint that is left upon our world is important to us in our manufacturing processes; as well as our ancillary administrative, storage, and shipping operations.  Fortunately, vinyl records are a consumer good that is not generally "disposable" in nature.  By focusing on making high quality records, we feel that we further ensure that our records are collected and owned for lifetimes.  We also strive to manufacture high quality records in the most energy and resource-efficient manner.  Where possible, we recycle and/or reuse materials involved in each facet of our operation.  Finally, we are proud to contribute a portion of our profits to the Carbon Fund, to help offset the impact that any company of our size can have on the environment.
The Bottom Line – Quality and Customer Service
Our quality control efforts go beyond making sure your records sound and look great, but also assuring that the accompanying print looks great too.  We try to make the design process as easy as possible for both experienced and novice designers, engineers, and musicians.  However, we do recommend that you consult with professional graphic designers and professional mastering engineers to ensure your project is completed in the fastest turnaround possible, and at the highest level of quality.
If you don't see what you are looking for or have a question, get in touch with us at sales@gottagrooverecords.com or call (800) 295-0171.
 Gotta Groove Records, its logos displayed on this website, the tagline "The Artist's Preferred Pressing Plant", and the tagline "Pressed Not Compressed" are all trademarks of Gotta Groove Records, Inc. and may not be used without prior written consent.