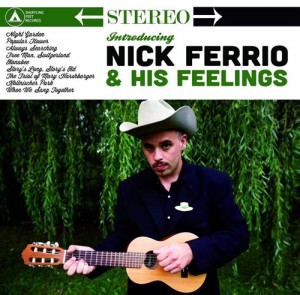 Nick Ferrio is a country singer and songwriter from Peterborough, Ontario.  You might know Nick as the silly and fun-loving bassist in The Burning Hell. But since before Nick joined The Burning Hell six years ago, he has been quietly working away on his own songs. Now, for the first time he is branching out into a solo career.
Nick's music is at once honest and filled with tall tales. His version of country music contains shades of some of country's greatest storytellers, likening to Tom T Hall, Willie Nelson and George Jones.  Joined by Ryan Perks on lead guitar, Emmott Clancy on drums, Liam Wilson on bass, Chris Altmann on pedal steel, Caylie Staples and Spencer Burton (of The Grey Kingdom) on harmony vocals, Nick Ferrio & His Feelings made a record of country music the way it was recorded generations ago – with ribbon mics and tape machines.
Stay tuned to Shuffling Feet Records for the official release of this new LP.