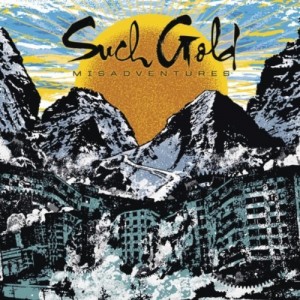 Misadventures isn't just the title of Rochester, New York-based melodic hardcore band Such Gold's debut full-length- as Nate Derby explains, it's a way of life.
Misadventures, is 28 minutes of pure aggression that will quicken your pulse and make you think. Derby and drummer Devan Bentley write much of the music, while frontman Ben Kotin and guitarist Skylar pen much of the lyrics. It's that collaborative mindset that allows the band to take risks together, even if it means agonizing over each and every song. "We're not a band that can just sit down and bang out a record in a week," Derby admits. "It takes me forever to write a song even to a point where I can bring it to our drummer Devan and write stuff with him."
"Our producer was all about capturing the band for it's live energy, too. We mapped out the tempos, so it really feels like you're listening to us live," explains drummer Bentley. He continues "I'm really happy that we were able to capture my own drum sounds on this record. No samples replacing all the hits, no crazy amounts of editing. It's me hitting those drums. Same goes with everyone's playing, especially Ben."
Pre-order Misadventures now!