In this example, we are building an order for 500 12 inch records.
In step one, you can see that the price for 500 black vinyl 12″ records is $1675 — it is circled in the screen shot below: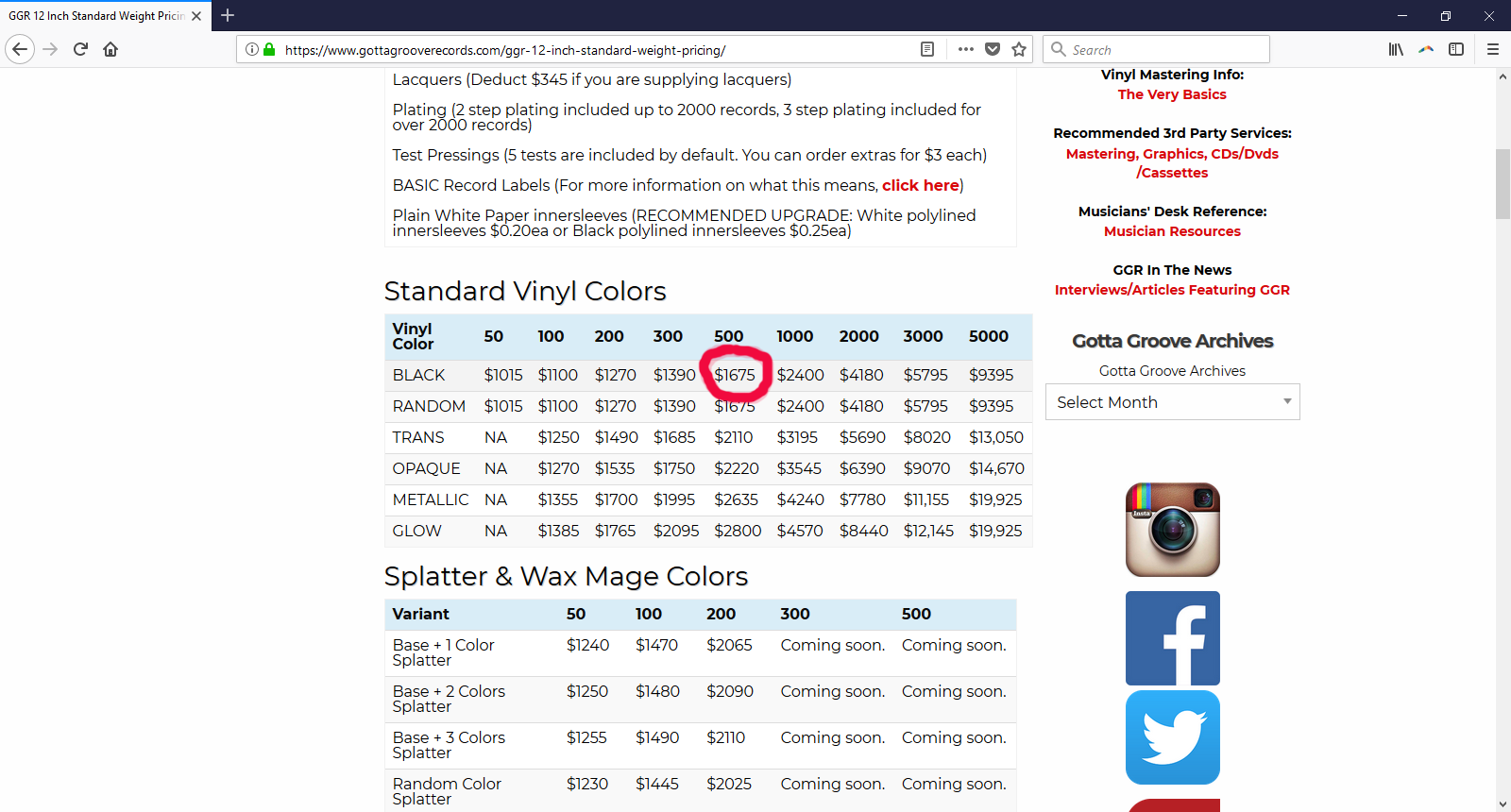 Since we know that we want to do black vinyl, we will now skip down to the "Add-On Items for Step 1".  But, if we were doing color vinyl, we would take the price for the applicable color that we want to order in Step 1….but we'll stick with black vinyl for this example.  In this part, we'll add the recommended Test Cuts, as well as full color labels (both items are circled in the screen shot below).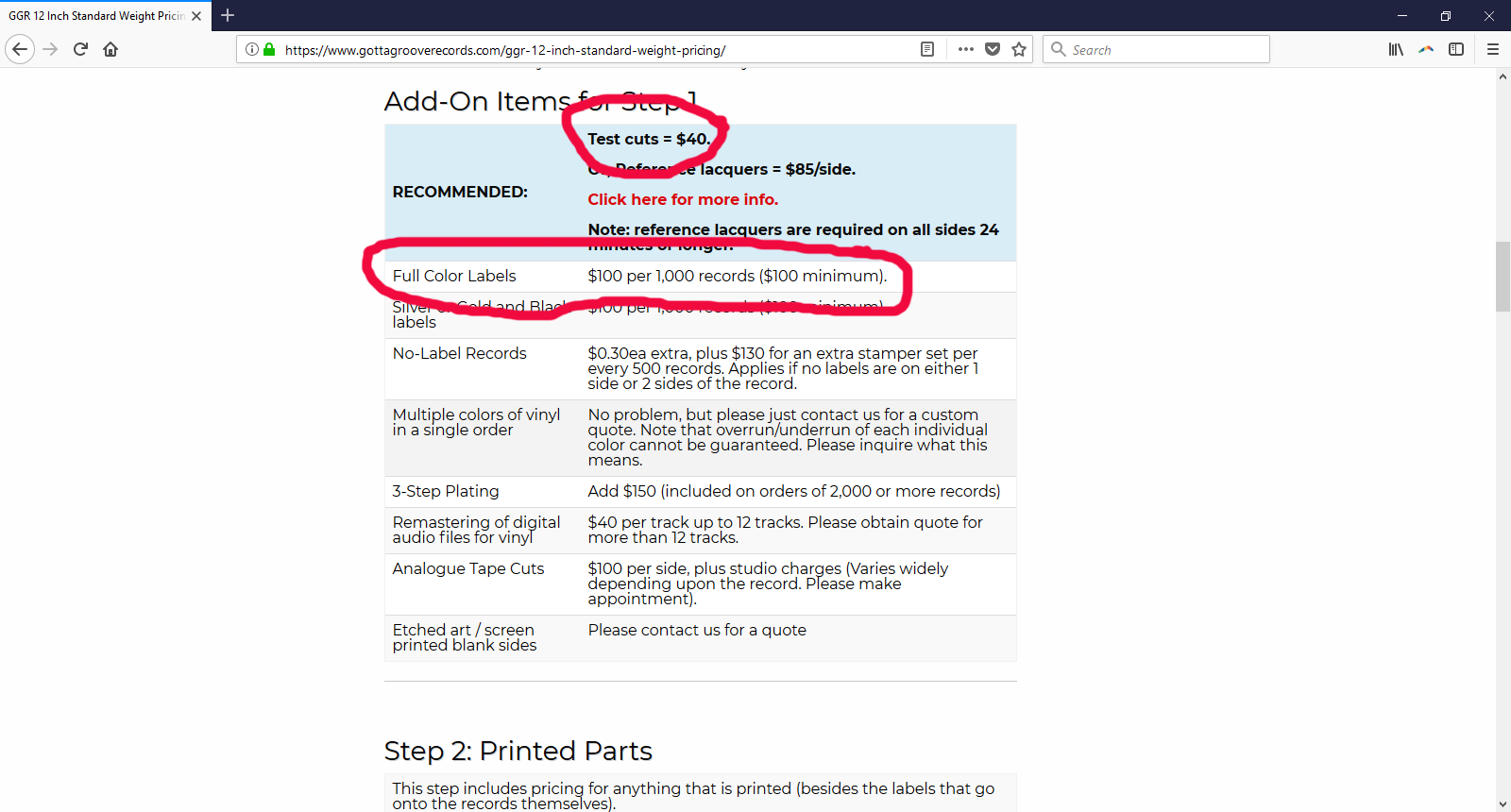 Now, let's move ahead to the printed parts of our example project — Step 2 has all of the print parts.
We are ok with just plain white innersleeves, so we can skip over the printed innersleeve section of Step 2 — but if we change our minds, we can always add the price for 500 printed innersleeves – it is circled in the screen shot below ($325 for B&W print or $495 for full color print).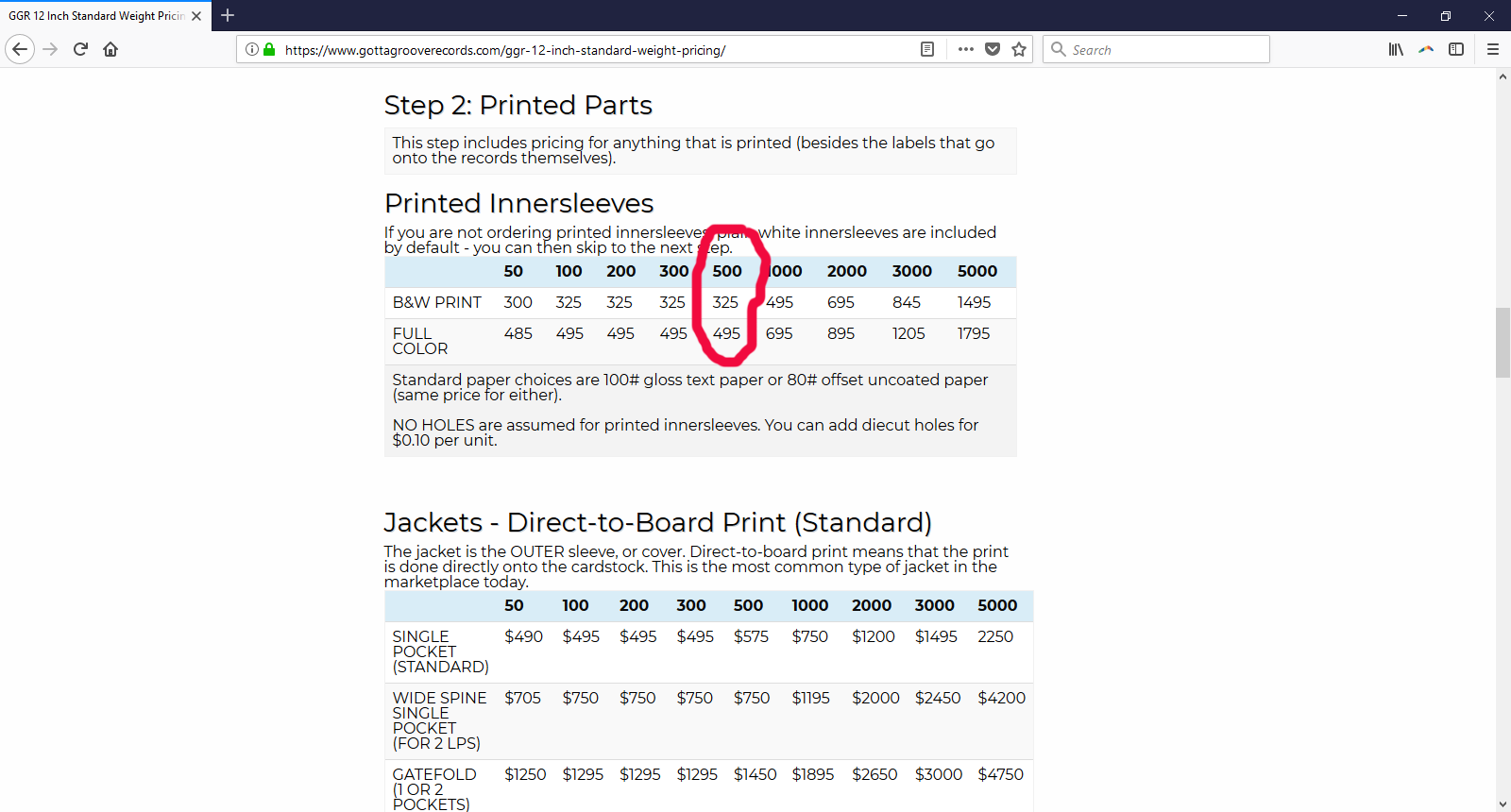 We know that we want standard single pocket jackets (this is the most common type of packaging for records today).  So, we will add the $575 circled in the screen shot below: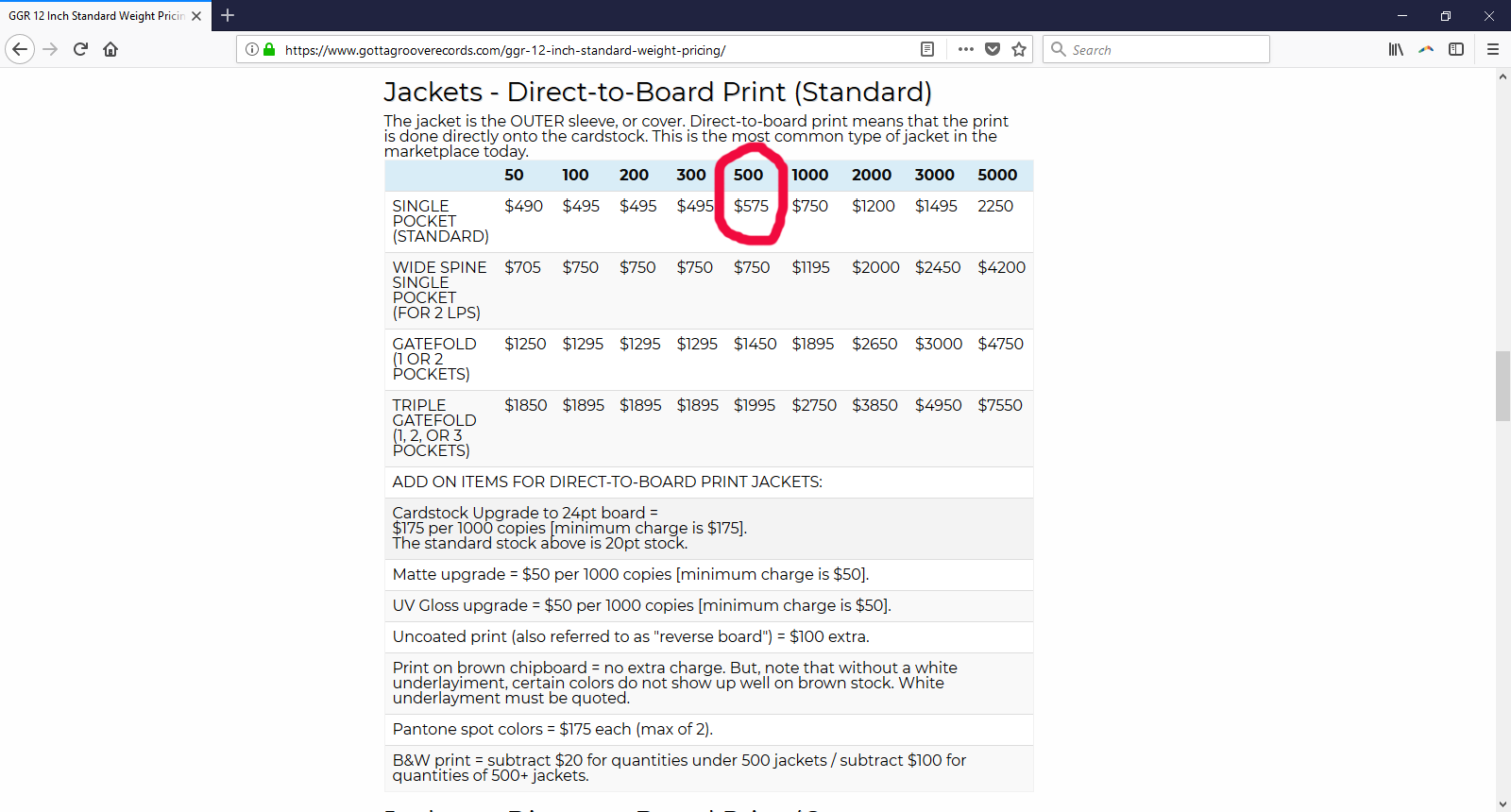 Then, we want to put a 2-sided black-and-white print lyric sheet into our jacket, so we'll add the cost of that (it's the $285 circled in the screen shot below).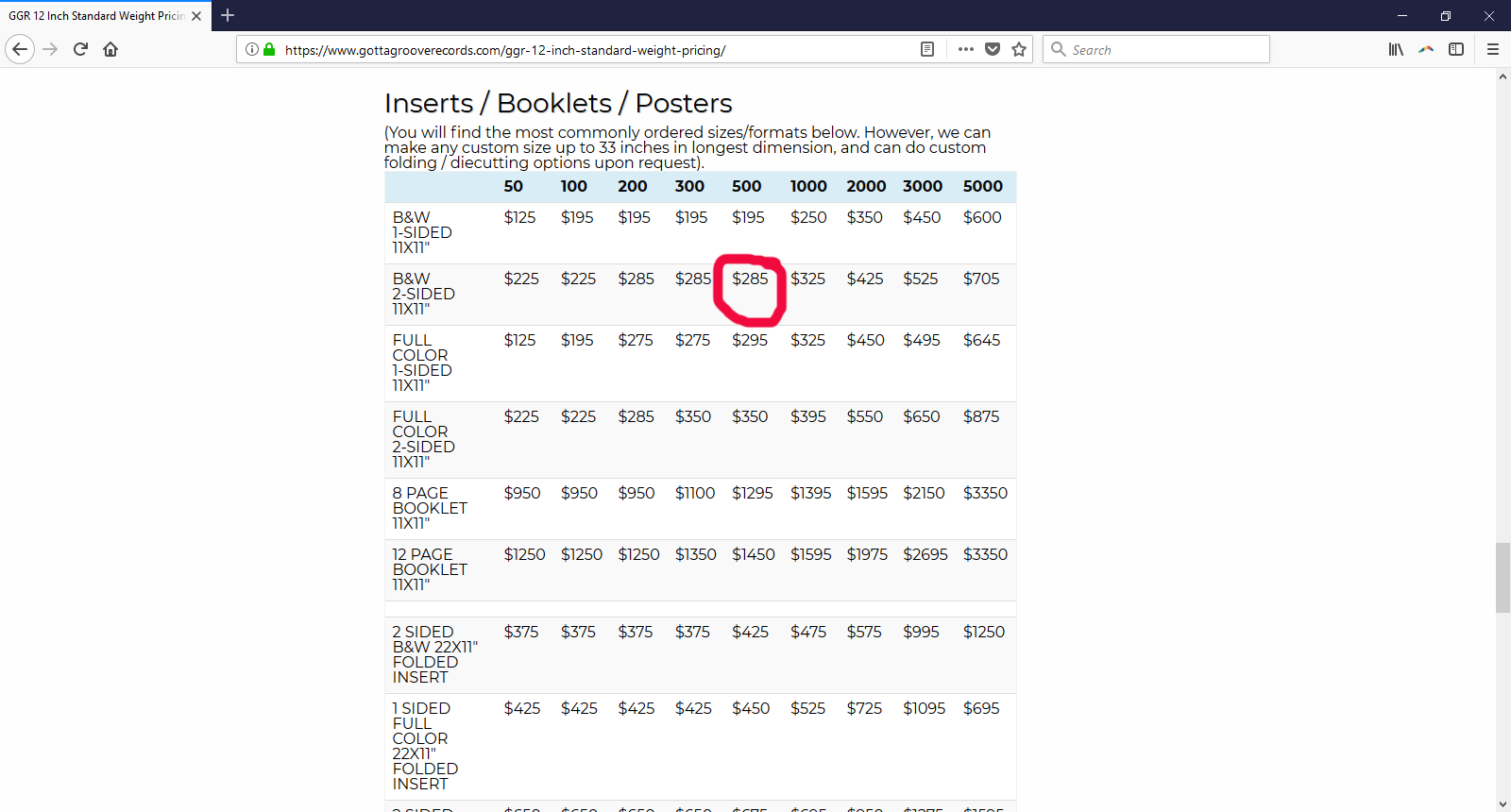 We want digital download coupons next, so we'll add $200 for those: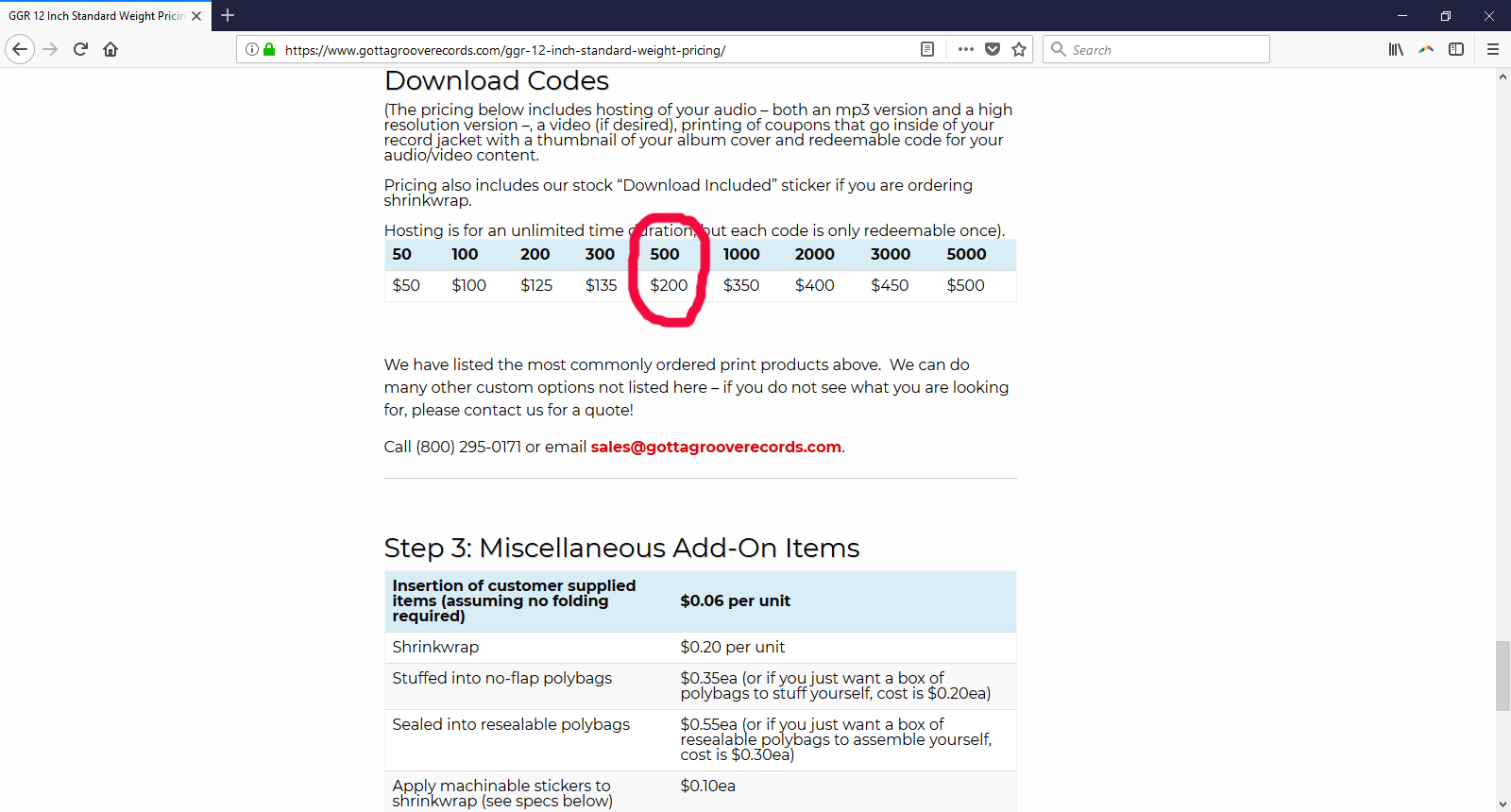 Finally, we want to have our records put into polybags instead of shrinkwrap.  We want the kind of polybags that are open at top, not with a flap — so we'll take the $0.35ea price circled below, and multiply it by 500 units.  (Typically, an order for 500 records will have extra copies once everything is done in manufacturing — while GGR does not charge for these extra copies, we do have to pay for the polybagging on all copies shipped — so this $0.35ea will apply to whatever that final total shipped is – max of 10% extra units, so a max of $0.35ea x 550 units).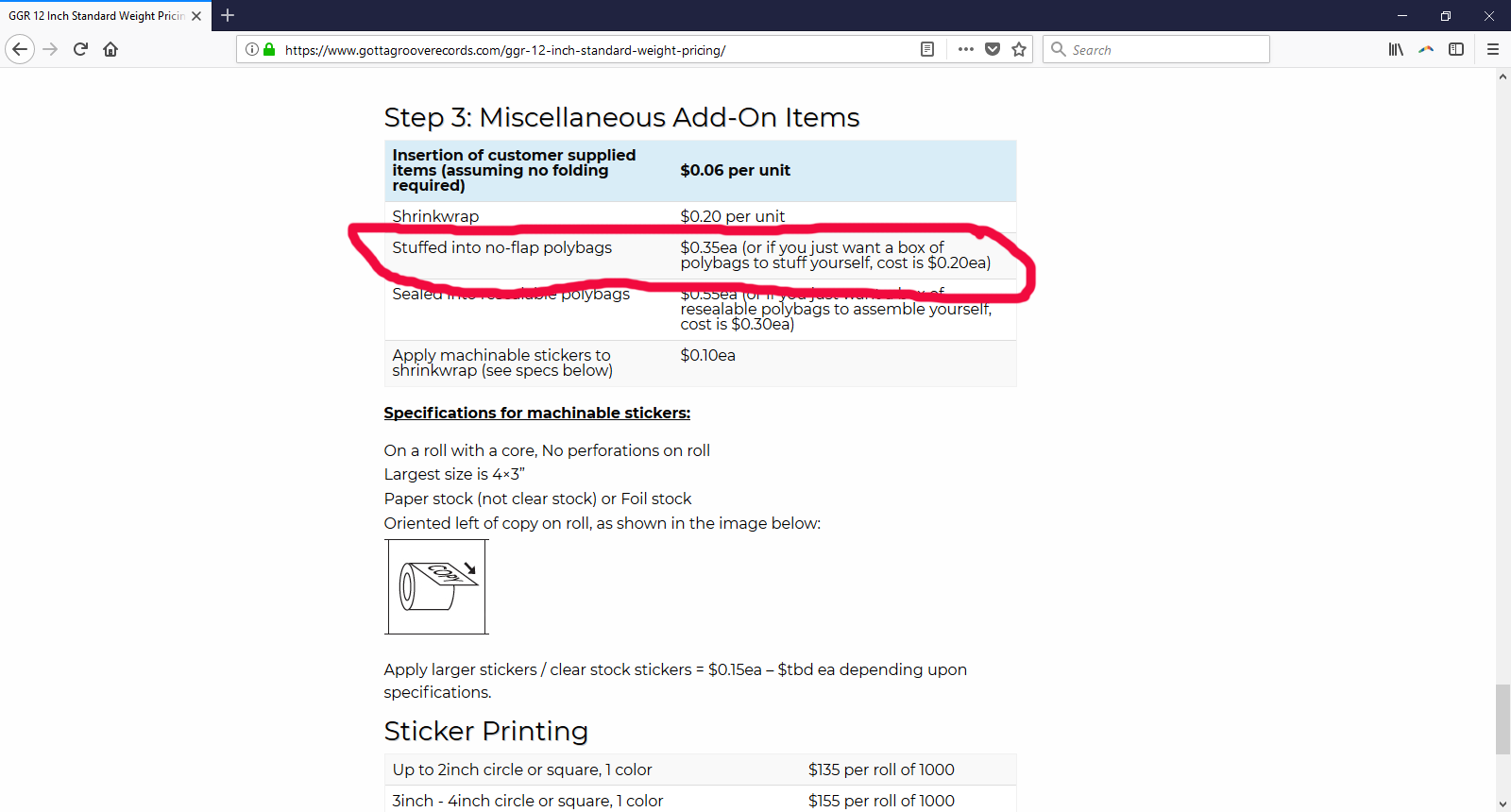 We add up each of the items above, and we get a total of:
$1675 for 500 black 12″
+
$40 for test cut samples
+
$100 for full color labels
+
$575 for full color single pocket jackets
+
$285  for 2-sided B&W inserts
+
$200 for download codes
+
$0.35ea for polybagging
= $3,050 + shipping
Shipping costs are not known in advance – they depend a bit upon the final weight, the number of addresses, and the specifics of the address(es) [commercial locations tend to save money vs residential addresses].  We can give you a guestimate if you contact us – (800) 295-0171 or [email protected]
We have tried to make this pricing stuff as simple as possible, and we hope this illustration helps.  Feel free to call or email us with any questions!